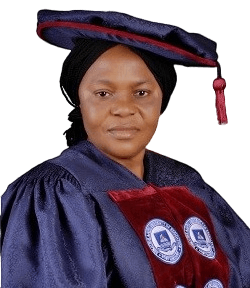 Mrs. K. H. Kue-Ikoro, MNIM
Registrar/Secretary to Council I.A.U.E. P.H.
Ignatius Ajuru University of Education
Mrs. Hope Keaniabarido Kue-Ikoro, the Registrar of Ignatius Ajuru University of Education, Rumuolumeni, Port Harcourt, hails from Luyor-Gwara in Khana Local Government Area of Rivers State, Nigeria.
Mrs. Kue-Ikoro, a professional member of the Nigerian Institute of Management, a devoted Christian, mother of many children, who is happily married to Mr. Kue Leyiga Christian Ikoro, was born on 30th April 1965 in Okwale, Khana Local Government Area and went through formal education, to acquire necessary skills to get to the position she has attained today.
She had her First School Leaving Certificate in 1976 at State School Okwale, completed her Secondary School at the Archdeacon Crowther Memorial Girls School Elelenwo, with a West African School Certificate in 1981, and in 1985 bagged a Bachelor of Arts (Hons.) degree in History at the University of Port Harcourt before proceeding for Youth Service Corps from 1985 to 1986 to serve her country, in the Nigerian Airways, Abuja as an Administrative Officer.
From then onwards, Mrs. Kue-Ikoro who enjoys reading, boosted her wealth of work experience with her first appointment as an Administrative Officer (II) in the erstwhile Rivers State College of Education, Port Harcourt, in 1988 and rose through the ranks diligently to Deputy Registrar in 2007, as an Officer in Charge of Establishment and a Faculty Officer of Business Studies consecutively.
When the College was made a University (Ignatius Ajuru University of Education), Mrs. Kue-Ikoro, a strong woman of virtue and integrity did not rest on her oars. She carved a niche for herself as she went on sabbatical leave at Rivers State University of Science and Technology (now named Rivers State University) as a Deputy Registrar in the Academic Planning Unit from 2012 to 2013.  While there, she served as Secretary, Examination Monitoring Committee, member Mock Accreditation Committee, Processing of TETFUND applications and other duties.
She has served in all the Administrative Units of the institution. As a Deputy Registrar, she was in charge of St. John's Diobu Campus administration.  She also served as Secretary to Appointments and Promotions Committee (SPATS), Secretary to Appointments and Promotions Committee (Academic) Part 1 and handled personnel matters. In October 2016, she became the Director in charge of Establishments Unit.  Later in November same year she became the Acting Registrar/Secretary to Council of the University and confirmed substantive Registrar on 28 September, 2017.
Mrs. Kue-Ikoro has served as Secretary and member of several Committees and Panels set up within and outside the University that uphold values. In her community and beyond, she is known for her philanthropic outreach to the poor.
She operates an open door policy and can easily be reached.