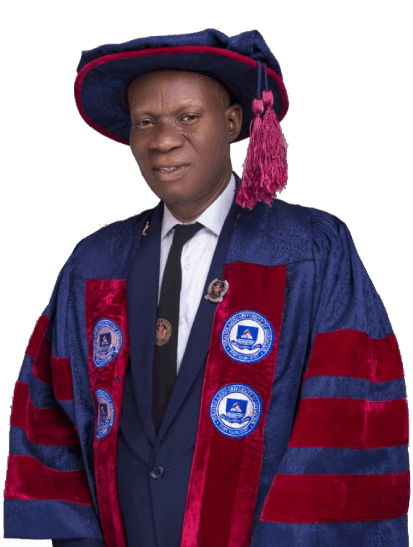 Professor Samuel Amaele, KSC
Director
BRIEF PROFILE OF PROFESSOR SAMUEL AMAELE, KSC.
The very distinguished Professor Samuel Amaele was born over Sixty years ago into the family of Elder Isaac Amaele and Mrs Florence Amaele, both of blessed memory, in Amaele Group of families, Umu-Ordu Autonomous Community, Umuforuru Ozuzu Etche, Rivers State, Nigeria. He holds B.A. (Ed) degree in English studies, (1989) and M.Ed degree in philosophy of Education (1992), both obtained from the University of Port Harcourt. In 1998, Professor Samuel Amaele obtained his Ph.D degree in philosophy of Education from Delta State University, Abraka, Delta State, with special interest in both pragmatism (school of philosophy) and Axiology as preferred branch of philosophy.
Professor Amaele taught at various levels of Education from primary up to Tertiary institutions. He served as a classroom teacher at Community Secondary School Obelle from 1986 to 1992. In 1992 he was transferred to the then Post Primary Schools Board, Port Harcourt, as Administrative Officer. The profiled Professor served as the Pension Desk Office, and later Head of Discipline and Welfare. He was also the Secretary of Personnel Department and impacted greatly on the state Post Primary Schools Board between 1992 and 2001.
Professor Samuel Amaele left the service of the Board to the University of Ilorin Kwara State, on appointment as a lecturer II in 2001 and rose up to lecturer I. at the University of Ilorin, Prof Amaele taught courses in philosophy of Education, History of Education, comparative Education, Sociology of Education and other related disciplines at the undergraduate and Graduate levels. He developed the course of content of philosophy of Education and also published a world class book for philosophy of Education in the Faculty titled "Understanding the philosophy of Education. At Ilorin he served as the Secretary, Academic Staff of the department of Educational foundations, the department Examination coordinator, member, Faculty of Education Examination committee, Member, Faculty Representative of Assu, Member, Senior Staff Accommodation Committee, Member of two University Journals from the Faculty of Education, etc.
From Amaele left the services of University of Ilorin, on home pressure to the then Rivers State University of Science and Technology, later to Niger Delta University, Amassoma, Bayelsa State and in 2008 he returned to the then College now Ignatius Ajuru University of Education, as a Senior Lecturer. The erudite Scholar Professor Samuel Amaele Amaele, as it was in his precious Universities, has held several opportunities in his present School: Head of Department, Educational Foundations and Management, (2008-2013), Chairmen, Housing Committee (2014-2015), Director, Quality Assurance (2015-2019), Director, Professional Ethics (2017-2019), Director,  Centre for Continuing Education (2019 till date). Other positions include Chairman, Admission Committee, Chairman, Matriculation Committee, Chairman, convocation committee, Chairman "A-S" Committee, among others.
The Profile Scholar, who was promoted to the rank of a Professor in February 2016, has been a member of the University Senate from 2008 till date. He was a member of the outgone University Governing Council.
He has provided eighteen Ph.D holders, scores of Master's degree holders and thousands of graduates across the six Universities he taught: UniKorin, RSUST, NDU-Bayelsa, National Open University, University of Port Harcourt and Ignatius Ajuru University of Education. In addition he had taught and coordinated programmes at the National Teachers Institute in two State: Rivers State and Bayelsa State.
Professor Samuel  Amaele, who is an external Examiner to over five Universities, has published eight academic books, thirteen book chapters and over seventy journal articles of National and international standards. He has also attended over thirty academic conferences and presented papers in most cases. Sir Amaele is distinguished Professor with lots of International, National and Local Awards. He is a member of over ten National and international Academic and Non-Academic Organization.
The erudite Professor of Moral Philosophy, who is happily married to Dr. Mrs. Mabel Amaele is blessed with children and a granddaughter. He is a knight of St. Christopher (Anglican Communion) and runs a welfare Ministry known as "Ministry of Help and Testimonies".