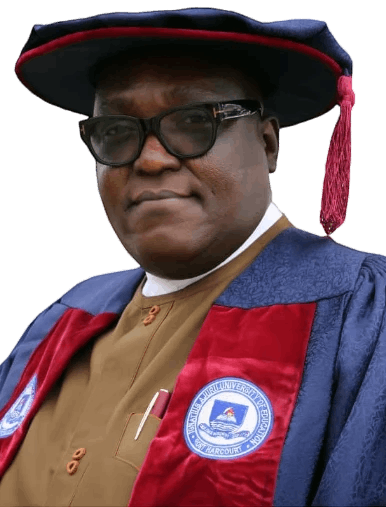 Prof. Okechuku Onuchuku
Ag. Vice Chancellor
Ignatius Ajuru University of Education
Quantitative
Public Sector Economics
Professor Okechukwu Onuchuku may not need an introduction, particularly to the academic community who are fully abreast with his exploits in the ivory towers. He has remained a leading light and beacon of hope in the education sector.
The acclaimed Professor of Quantitative and Public Sector Economics, scored another milestone with his appointment on Thursday, November 18, 2021 as Vice Chancellor of Ignatius Ajuru University of Education (IAUE), Rumuolumeni, Port Harcourt, by the Rivers State Governor, Nyesom Ezenwo Wike.
A statement by the Special Assistant to the governor on Media, Kelvin Ebiri, said Professor Onuchuku takes over from Professor Ozo-Mekuri Ndimele who was appointed Vice Chancellor of IAUE by Governor Wike on November 23, 2016.
A peep into the sterling profile of the distinguished Emohua-born academic heavyweight, reveals a warrior rearing to conquer more territories.
Through a humble beginning, Okechuku Onuchuku attended Sacred Heart State School, Diobu, Port Harcourt (1971 to 1976), Government Secondary School Eneka, Port Harcourt (1977 to 1982).
He had his higher education at University of Port Harcourt, Choba from 1986 to 1990 where he obtained B.Sc. (Hons.) in Economics with 2nd Class Upper Division. From 1995 to 1998, he obtained PhD in Economics from the same university and in 2009, he attended York University, Canada and Schulich School of Business Executive Education Centre, where he obtained Certificate in Performance Indicators in Government: Measurement and Management.
He started his working career in 1983 as a Clerk in National Population Commission, Port Harcourt. Between 1992 and 1995, he became an Assistant Lecturer in Rivers State College of Arts and Science, Port Harcourt.
In 1995, he moved over to the University of Port Harcourt also as an Assistant Lecturer. In 2010, he was appointed a Professor of Economics in University of Port Harcourt and is currently a member of the University Governing Council.
His area of specialization is Economic Theory and Policy and Quantitative Economics (Econometrics and Mathematical Economics). He is a life member of the Nigerian Economic Society and became its National Vice President in 2015.
A serial award winner, Prof. Onuchuku has authored many books, publications and articles in both Local and International journals.
He was appointed into the Board of U&C Microfinance Bank Ltd in September 2017 as a representative of the Uniport Governing Council, where he left indelible footprints and also added a lot of value to the Bank.
He was the Director, University of Port Harcourt, Business School, a position he earned through hard work, humility, and indefatigable virility for excellence. As his trademark, he brought his experience to bear by rebranding and transforming the University of Port Harcourt Business School to a World-Class Institution of Higher Learning. Hence, the University of Port Harcourt prides itself as one of the best Business Schools in Nigeria and Africa.
Prof Okey Onuchuku is a life-time Member of NES, and had occupied the position of Vice-President of the Southern region. Onuchuku's research interest are on viz: public sector, monetary economics, macroeconomics, international finance, and Quantitative & econometrics. He teaches and provides cutting edge services to Multinational companies in Rivers State.
Okey Onuchuku is a seasoned administrator, and has occupied the position of Head of Department of Economics, Dean of Faculty of Social Sciences, and he is a visiting Professor of various Nigerian Universities in Nigeria.
He is a Team player, motivator, counsellor, a father and friend to all, he is a sports enthusiast and the goal keeper of the University of Port Harcourt soccer team in his first degree days. Onuchuku is a freethinker and loyal to constituted  authority.
Prof Onuchuku's Inaugural Lecture focused on "War of Supremacy between Unemployment and Inflation, who is the loser?".  He recommended the use of rural base economic system to create a diversified and robust economy where the twin macroeconomic problems of unemployment and inflation would be addressed.
He has been involved in NES and economic body that advises the government on the operational economic policies to drive the Nigerian economy. An advocate of Modular Refinery system, he believed that the system has the capacity to drive a blue economy.
He has remained loved and articulated, intellectually calibrated academician that helps the students (indigent) indigenes and non-indigenes, supervising on financial support to offset their research burden.
Onuchuku is a man that loves his people, the staff and non-academic staff. A patient and optimistic fellow of first principle. Through his monthly stipends he has been able to empower his community and people that have been privilege to meet him.
His impeccable charisma could be availed to transform Nigerian academic system. He has the capacity, character and commitment to operationalize the Buhari's agenda on transforming quality education.
Like a gold fish that had no hiding place, no wonder this iconic and youthful professor had caught the attention of the pragmatic Governor of Rivers State, Nyesom Ezenwo Wike, to place him in the exalted position of Vice Chancellor, Ignatius Ajuru University of Education (IAUE), Rumuolumeni, Port Harcourt.